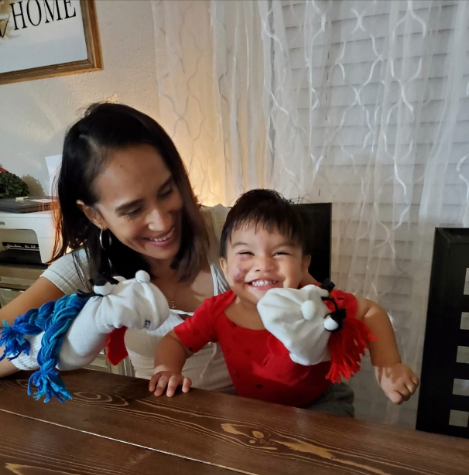 Esmeralda and her 9-month old son, Adriel. They are graduates of our September-December 2021, rapid-pace PCEP class. Esmeralda doesn't have her own transportation, and so was was very excited we are still offering virtual classes. Otherwise, her and Adriel would not have been able to participate.
The Educational Toy Making is favorited by all of the children. Parents are taught how to make toys out of common household materials and use them for educational play. Here, Esmeralda and Adriel are playing with some sock puppets they made, stimulating Adriel's auditory and visual senses, while working on expression and language skills.
Esmeralda shared Adriel was unable to clap when they first started. His teacher noticed the developmental delay and gave some recommendations and activities to work on. Now, Adriel is able to not only clap, but say his vowels, animal sounds, and is able to sit still and pay attention.
"I love class because I know we are going to talk about important things that will help me to improve as a mother." 
Esmeralda shared with us. She mentioned how the parenting class taught her how to use positive words like exploratory and active to describe Adriel, instead of negative words like annoying or naughty. She learned the importance of reading and the impact in can off on learning and development, 
"I read to him every day and he is getting used to listening to me and paying attention , for longer and longer, before he couldn't sit still."
 Esmeralda was very grateful for the program and wished she knew about it for her older children. She thanks AVANCE for teaching her how to better connect and create a positive learning environment in the home. She's enjoyed 
"This program changed our life and the vision of the future of the children. It has united us more and strengthened our family ties and love of each other. It has made us a safer and more dedicated family."