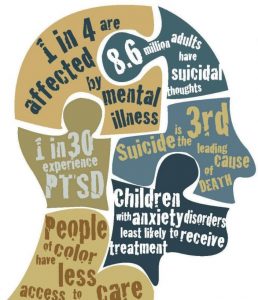 Well Together is a new initiative in partnership with Texas Health Resources, focusing on mental health within the Dallas Hispanic community in high-risk areas (Zip Codes 75211, 75212, 75217, and 75231). According to the Substance Abuse and Mental Health Services Administration, roughly 70% of Hispanics do not receive treatment for diagnosed mental illness.
The stigma surrounding mental health in the Hispanic community, misdiagnoses due to cultural differences, fear of legal status, language, all act as barriers preventing those who need help, from seeking help. The unique component of our Well Together program is the use of volunteer Promotoras, or members of the Hispanic community who, in this case, have been specially trained to provide basic mental health education and case management, without being professional health care workers. 
Each Promotora undergoes an extensive eight-week training period, including Mental Health First Aid, to learn how to 1) recognize signs and symptoms, 2) listen without judgement, and 3) to refer to the right professional services. 
This program is sponsored by: